Sunday, April 17
Easter: Worship Together
This Easter learn how Jesus is the solution to our every hurt, featuring GraceBuilt worships modern, heart-felt worship and an easy-to-apply verse-by-verse study with Pastor Josh. This year our awesome kids ministry team is hosting the MEGA Easter Egg Hunt. Imagine a 10,000 square foot warehouse with games, play stations, and activities celebrate the kids of our community! The MEGA Egg Hunt will be woven into our kids ministry time, so bring all the kids you love.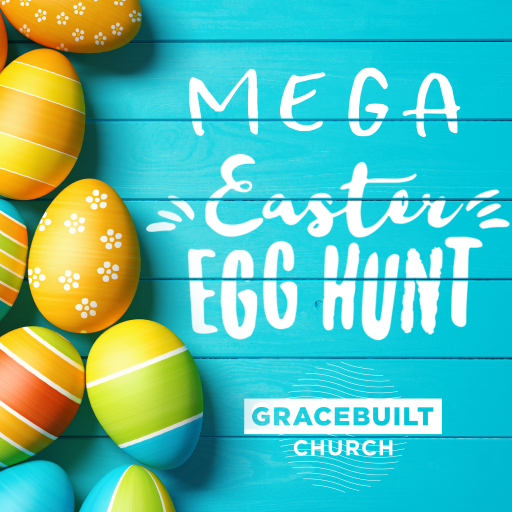 Who
Young and old love Jesus at GraceBuilt and you should too! So, whether you grew up in the church, or have never stepped foot in one, this Easter is for you and your friends.
What To Bring
Bring your Bible and a notebook. You will be surprised how much you learn from Jesus in His word when you have an expectant heart.
When
Our 9 am and 11 am services feature the same modern, heart-felt worship music and encouraging lesson taught directly from the Bible. The teaching is also available online at GraceBuilt.org, and YouTube.
Children
Every Sunday we roll out the red carpet for the kids, so not only do they love church but you will too because they are learning about Jesus and His word.
Children ages 0-4 are encouraged to use the GraceBuilt Nursery, which will be ready 15 minutes before each service. Also, for your convenience, there is a comfy Mother's Room for moms with small children adjacent to the sanctuary.
Children Age 5-11 are checked in before each service starts, but stay with their parents in the sanctuary till the music is finished when we send the kids to the GraceBuilt Kids department.
Easter Children's Music
If your child has been a part of our kids ministry for a while we invite them to lead two songs that they have been learning in the kids ministry. The kids of GraceBuilt kids department and the GraceBuilt Creative Learning Center will share two songs at the conclusion of our worship time on the main stage with the worship band during the 11 am service this Easter. It will be fun and a good opportunity to teach the kids about their role in the body of Christ.
Pastor
Our founding Pastor, Josh Akin, will be leading the service. Josh is passionate about helping the world Learn and Love the Bible. To receive his free and helpful Bible studies mailed to your inbox
sign up here
.