Sunday, February 06, 2022 - Thursday, February 17, 2022
Holy Land Tour 2022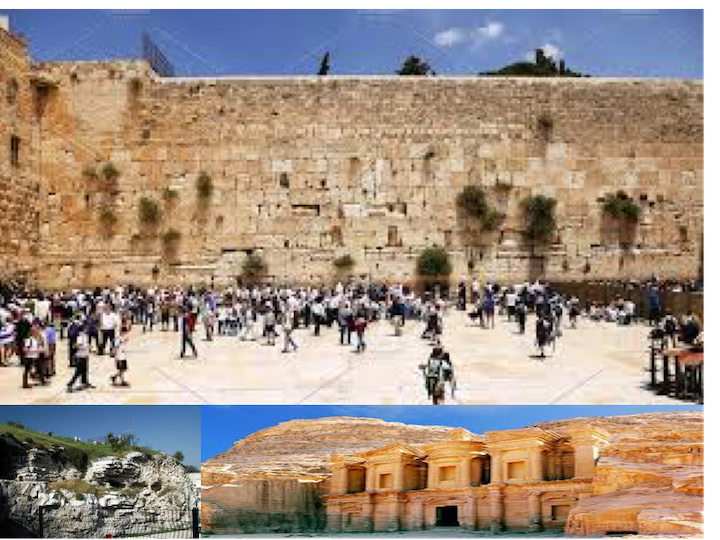 Join GraceBuilt Church On An Unforgettable Journey and be blessed!
12 Day Israel-Petra Tour - February 14 - 25, 2021
Hosted by Pastor Josh Akin of GraceBuilt Church
Come discover the land of the Bible
- Our journey begins in Caesarea on the Mediterranean Sea and from there travels to: Mt. Carmel, the Valley of Megiddo in the Jezreel Valley, the Mount of Beautitudes, Capernaum, Mt. Arbel, Magdala, the Golan Heights, Tel Dan, Nimrod's Castle, Gadera and Beit Shean. Join us as we travel across the Jordan River to Petra Jordan, the amazing prophetic city that was carved into a rock face; before returning across the Jordan River, visiting Masada and the Ein Gedi Overlook.
- During our trip we will ascend to Jerusalem where we will visit: the Temple Mount, the Wailing Wall, the Western Wall Tunnel, the City of David, the Canaanite Tunnel, Pool Siloam, the Old City, the Mount of Olives, Palm Sunday Road, the Garden of Gethsemane, the Southern Steps, St. Anne's Church, Pool Bethesda, Had Vashem, a Model of Jerusalem & the Dead Sea Scrolls, and ending with Calvary / Golgotha and the Garden Tomb!
- Come see your Bible come alive as we study the Bible in the places the events took place. You will travel on a luxury bus and stay at great hotels. You will enjoy an amazing Biblical and cultural experience! You will be blessed every step of the way! Sites subject to change.
Cost $3,595.00
Sign Up
Pick up a registration form on the Information table in the church foyer, or request pdf of the application at . To sign up for this once and a lifetime trip please fill out the registration form and include a $300 deposit and mail to our GraceBuilt Church office @ 2639 W. Main St. Waynesboro VA 22980. Please send in your deposit as soon as possible to reserve a space. See payment schedule below.
Please Note: You may also pay online through our giving page at gracebuilt.org There will be an additional 3% to cover credit card costs. Please email or mail the registration form(s) to GraceBuilt with above address. Each person will need a registration form.

Includes:
Round-trip airfare IAD to Tel Aviv - flight price not guaranteed
12-day Israel-Petra Tour - Hotels - All entrance fees and tips

Full buffet breakfast & dinner daily

Tour Guide and Travel on a Luxury Tour Bus
Price - $3,595
Add $925... to room alone or if no roommate
Land Only

Price: $2,600

Passport

- You

must

have a valid passport that expires six months

after

the last day of our trip. - Expires on or after August, 26th, 2021
Payment Schedule
Make all payments to GraceBuilt Church. Please add "Holy Land Trip 2021" in the memo of your check. If paying online, please select the fund "Holy Land Trip 2021" at gracebuilt.org (3% fee).
[ - ] Jan. 19, 2020 Deposit - $300 - with application
[ - ] Mar. 15, 2020 - $500 - 2nd payment
[ - ] May. 17th, 2020 - $550 - 3rd payment
[ - ] July 19th, 2020 - $550 - 4th payment
[ - ] Sep. 13th, 2020 - $550 - 5th payment
[ - ] Nov. 15th, 2020 - $550 - 6th payment
[ - ] Jan. 10th, 2021 - $595 - Final payment
Refunds & Penalties: If you need to cancel you must notify GraceBuilt Church, and we will notify Bible Land Tours.
Cancellations will be charged a $200 cancellation fee per person.
Cancellations after Oct. 14th, 2020 are charged a $400 penalty.
Cancellations after Nov. 15th, 2020 are subject to airline, hotel & tour penalties, which may exceed 50% of the cost.
Cancellations within 4 weeks of trip departure date will be charged 100% of the trip.
Travel Protection is available & recommended! For questions regarding the Travel Protection plan, please call Travelex at 1-800-228-9792.
Reference location number 46-0175. You can purchase Travel Protection on line at www.travelexinsurance.com